#alive
#engaging
#posthuman
#thought-provoking
#trans-species
Materials and media
custom glass casts, glacial water from icecore drillings, light, custom floor carpet
Year
2022
Glass blowing
JoGa Glass Turin
Icecore meltwater
EUROCOLD Lab, University di Milano-Bicocca (Prof. Valter Maggi)
Curator's statement by Sofie Crabé (curator of STARTS4water exhibition at BOZAR, Brussels)
"This work is a poetic gesture that contemplates on time and on the fleeting nature of human life experienced against the backdrop of the seemingly timeless existence of the universe.
The work consists of several hand blown glass sculptures, resembling glacier tongues. The shapes are made to preserve glacial meltwater. The sculptures function as mini-memorials preserving the water, its geological, biological and climatological information for a future."
This work consists of several glass blown objects filled with icecore meltwater. Their shape is made from mountain landscape models so that the glass has imprints of the terrain and resembles glacier tongues.  The meltwater comes from icecore samples and is sealed inside the glass. Thus the water, sometimes as old as several ten thousands of years, will be preserved in a closed system.
During my residency ar Fondazione Pistoletto in Biella (Italy), I decided to focus on glaciers as starting points of fluvial systems. They hold an extreme importance not only as storages of water but also as a 'memory' of our earths past and indicators of climate change. In the ice embedded is information about climate from thousands years ago, radiation, pollution, organic materials – and a lot of it will melt away with climate change at hand. In my three works, I am looking at glaciers from a different perspective with various media technologies in order to stimulate an emotional engagement of the audience with these topics.
Rebuilding relationships with river systems presents the final works of artists Theresa Schubert and Joshua G. Stein, the result of their residencies within the project S+T+ARTS4Water (2021-2022), part of S+T+ARTS (Science, Technology and the Arts), an initiative of the European Commission promoted within the framework of the research and innovation programme Horizon 2020, supporting collaborations between artists, scientists, engineers and researchers.
Find out more about my residency and the development process on the STARTS4Water Journal.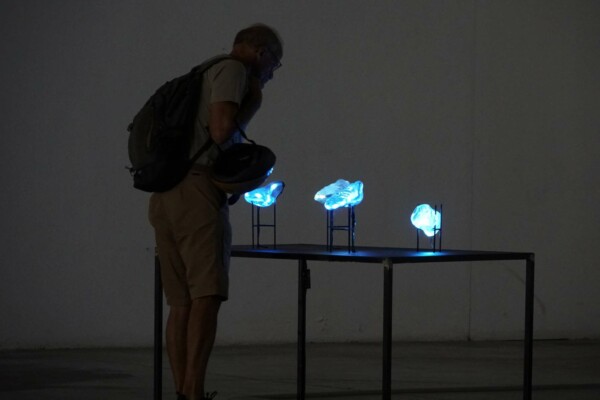 Prototypes shown at the end of my residency in Biella, July 2022.
Installation view at Cittadellarte – Fondazione Pistoletto. Photo: Theresa Schubert