#alive
#dark
#investigative
#posthuman
#thought-provoking
Materials and media
human muscle cells, human serum, lab materials, video, sound & biofeedback, machine learning modells, text, meat, incubator, tools
hybrid performance
Year
2020
Producer
Kapelica Gallery, Ljubljana
Science partner
Educell Inc. Ljubljana
Prizes
Award of Distinction (Arts Division) Japan Media Arts Festival 2022.
STARTS Prize 2021 Honorary Mention
mEat me asks for a re-evaluation of our dealings with meat, one's own body and materiality in times where technology has entered every part of our society and finally also made our bodies reconstructable, as well as the ethical aspect of laboratory processes. 
The body is not seen as a personality or gender.
The body is seen as an (a kind of) evolutionary architecture.  —  Stelarc
Many thinkers of posthumanism stress a non-human-centred perspective on the world, that we should assume a more modest role in our dealings with nature and stop hierarchizing species. Artist Theresa Schubert has drawn the radical consequence that if we see the human as an animal, then we should also be material and food. In her project, Schubert demonstrates that this provocation is not science fiction or a morbid dystopia through fearlessly exploiting her own body as a ground for experimentation. Making the human vulnerable can also be understood as a strategy for raising awareness of biopolitical issues and a more conscious dealing with nature and its living beings at large.
In her project "mEat me" a serum, gained out of her own blood, was used to reproduce her muscle cells that had prior been extracted. The resulting cultured meat based on human tissue shifts normative borders and dissolves the consumerist hierarchies between humans and animals to suggest a new perspective on food supply. The resulting performance "mEat me" (Galerija Kapelica 2020) moves between elements of alchemistic practice and futuristic industry, while questioning the inviolability of the human body and criticizing capitalist meat production at the same time.
As an artistic research project, "mEat me" applies innovative biotechnological advancement beyond a scientific purpose or monetary intent. It engages with the urgent topic of food supply in times of meat mass production and its relevance not only for our consciousness but for our future on this planet. By accepting the current situation, the climate crisis cannot be stopped and if humanity does not realise that buying cheap pork in the supermarket is connected to a global catastrophe there is no chance to adjust our behaviour.
1. Animal farming, climate crisis and COVID-19
The project stems from the criticism of the cruel handling of animals in industrial farming and its environmental impact due to the high C02 emissions, grain and water use. The idea of lab-grown meat as a more sustainable and cruelty-free alternative has been around for several years. Minimising animal farming would contribute to protection of the environment and less global warming.
As long as mass production of meat is still being the predominant practice and reality of today, not eating meat is not only an ethical consequence but also a political statement. "mEat me" wants to draw attention to those bioethical issues and treat the human as a fleshy resource in a similar way.
Taking a step into another direction, the 'vitalist-mechanist controversy' – as mentioned by political theorist Jane Benett – provides further philosophical background for debate. René Descartes, considered one of the first modern philosophers, proclaimed that animals are non-sentient automatons, "they eat without pleasure, cry without pain… their screams are not more than the squeaking of a wheel" [1]. His opinion was already by his coevals condemned as fatuous, murderous and monstrous; yet, looking at industrial farming and the current exploitation of animals for fashion and cosmetics, Descartes approach doesn't the seem too far from our treatment of animals as machines reduced to produce organic material.
We are alienated these days from the production processes as they happen at places we usually don't see. The distance between animal farms and cities is continually becomig larger. This disconnection allows easy forgetting where for example the steak comes from.
The COVID-19 pandemic we are experiencing now has added another unforeseeable relevance to the project. A recent article[2] has linked factory farming to the Corona virus. It explains how the animal industrialisation has required more and more space and in consequence, those farms were pushed out of inhabited zones, closer to the forest. Currently the assumption is that the Corona virus may originate from bats, animals that are living in forests and thus get in contact with nearby farmed animals, which as intermediate hosts of the disease have infected humans through consumption.
Bringing these topics with a multimedia artistic research project as an alternative communication to a heterogenic audience serves deeply my ideal to invite and inform. The aesthetic value of "mEat me"acts as a door opener and while following the performance it stands on a metalevel constantly for the paradox how humans destroy the only environment they can live in. I want to open up the discussion to a point which isn't established yet to widen minds and make an understanding of these all-day issues in a more profound way possible.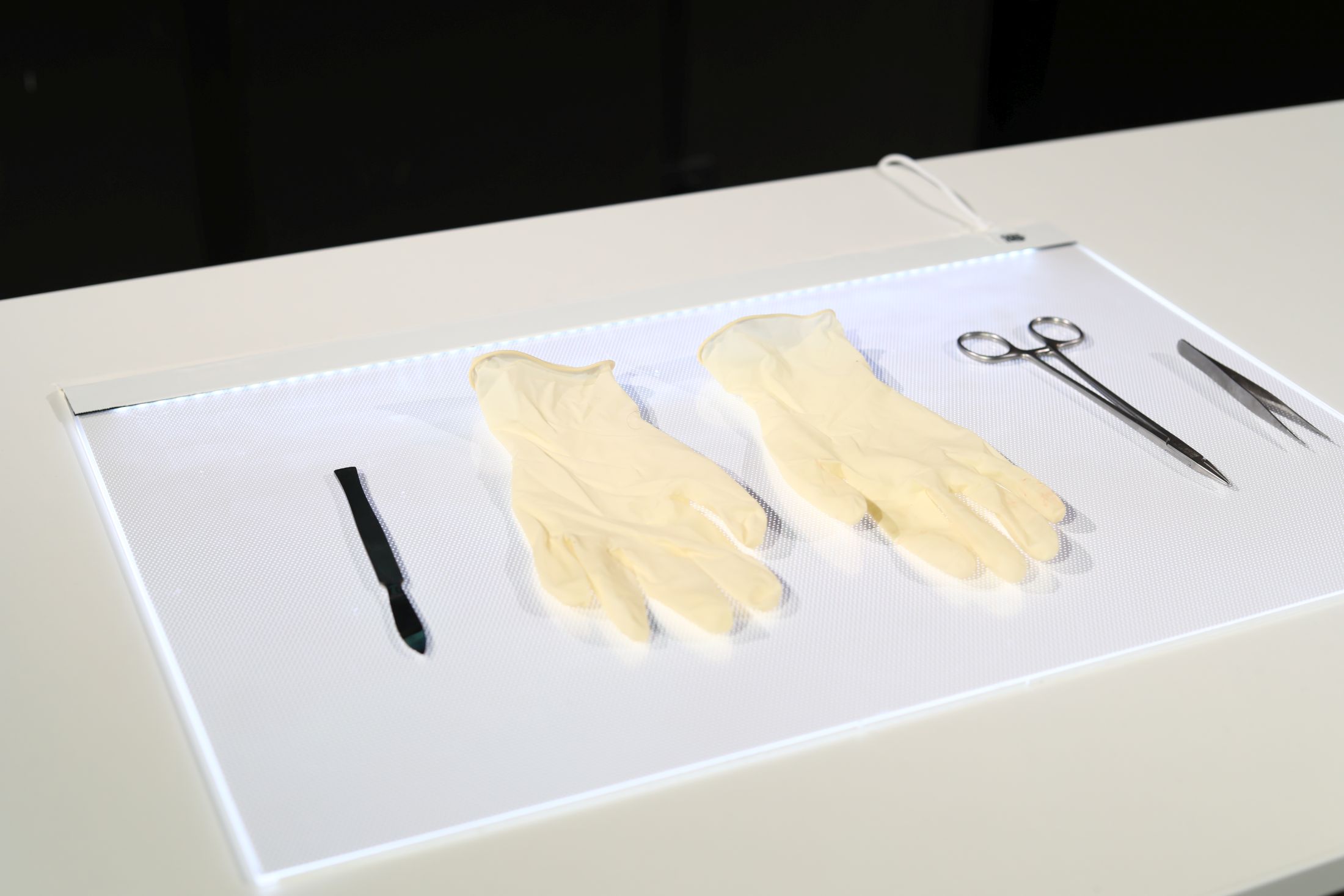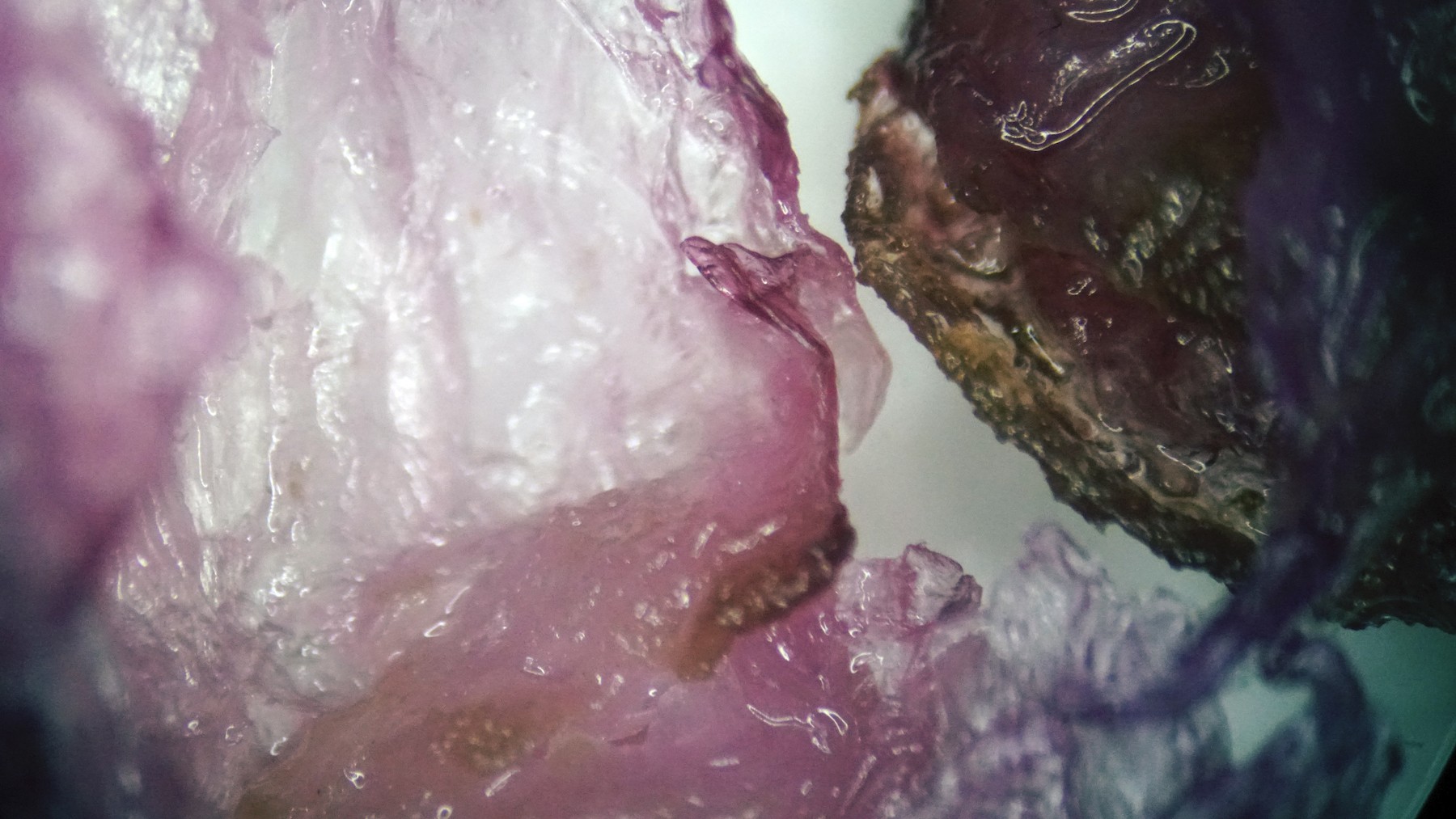 2. The cultured meat industry and capitalization
"mEat me" is also a critique to the ethical image the cultured meat industry presents.
Only by removing sentiency from the meat, we do not solve environmental issues. "mEat me" also addresses the misuse of technology invented with the intention to capitalize on it.
Another background of the project originates from a criticism of established lab protocols and used media. The promise of a lab-grown meat as a more sustainable and cruelty-free alternative has been around for some years now. This sometimes-called 'clean meat' has had usually a big problem stemming from the origin of the culture medium. Most cell and tissue culture protocols are based on using FBS, foetal bovine serum, which might better be called lethal bovine serum, as the living cow foetus is drained from blood until death for its production. For these reasons, the artist wanted to emphasize the use of animal free alternatives in the lab work. In addition, she wanted to elaborate on the cybernetic idea of being able to feed yourself from within. To create a mechanism for self-sustainable nutrition, where the meat cells and nutritious medium comes from yourself – your body as an externalised production unit. How does biotechnology affect the body and its experience?
Just low-threshold information and communication, a dialogue based on facts and ethical reasoning could open eyes and define a more sceptical position towards marketing strategies within a through and through capitalized world. "mEat me" invites the audience to experience an impulse to collect this information and confront themselves with the reality shown and the reality behind.
3. Cannibalism and animalisation
Cannibalism is one of the big taboos that is still exists in our society. Mostly this topic is never discussed rationally but it is left for apocalyptic, dystopian scenarios in popular culture, series, films, dark zones we do not want to go. Historically cannibalism was also used by the white western men to justify the killing of indigenous communities and conquer 'new' territories. Alleged cannibal tribes on e.g. Caribbean islands were compared with animals. A human that consumes another human loses its humanity and becomes animal, a beast without rights. A mediaeval Pope wrote a decree that permitted the killing of cannibals conveniently annulling a capital sin. It would be another area to go into this but some of the historical discrepancy and contradiction was in the background informing my project.
"mEat me" tackles the most fundamental myths of taxonomy and limits of the Self through biotechnology and experiences beyond human exceptionalism.
Credits
Artistic direction: Theresa Schubert
Sound design, interaction and AI: Moisés Horta Valenzuela
Video camera: Hana Jošić
Producer: Kapelica Gallery, Ljubljana
Performance consultation: Margherita Pevere, Mareike Maage
Expert help: Dr. Ariana Barlič, Kristijan Tkalec | Production: Kapelica Gallery / Kersnikova Institute
Partner: Educell company for cellular biology, d.o.o.
Special thanks: Freya Probst – rhizomes (root fabric), Prof. Saša Novak, Kaja Križman – Jožef Stefan Institute, Department for Nanostructured Materials
This project received funding from the Thuringian program for the promotion of young female academics and artists. The program of Kapelica Gallery is supported by the Ministry of Culture of the Republic of Slovenia and the Department of Culture of the Municipality of Ljubljana.
Exhibitions
Premiere and Performance: Feb 2020 Kapelica Gallery Ljubljana
Installation Version:
– Kleine Humboldtgalerie Berlin – Nov 2020
– Ars Electronica Festival 2021
– STARTS Prize exhibition, BOZAR Brussels – Nov 2021 – Jan 2022
– NTAA Award exhibition, Zebrastraat Ghent – Feb – Mar 2022
– The Unrestricted Society, C-Lab, Taipeh, Tawain 2022
– National Museum of Emerging Science and Innovation, Japan Media Arts Festival 2022